Host System Administration¶
Proxmox Backup is based on the famous Debian Linux distribution. This means that you have access to the entire range of Debian packages, and that the base system is well documented. The Debian Administrator's Handbook is available online, and provides a comprehensive introduction to the Debian operating system.
A standard Proxmox Backup installation uses the default repositories from Debian, so you get bug fixes and security updates through that channel. In addition, we provide our own package repository to roll out all Proxmox related packages. This includes updates to some Debian packages when necessary.
We also deliver a specially optimized Linux kernel, based on the Ubuntu kernel. This kernel includes drivers for ZFS.
The following sections will concentrate on backup related topics. They will explain things which are different on Proxmox Backup, or tasks which are commonly used on Proxmox Backup. For other topics, please refer to the standard Debian documentation.
ZFS on Linux¶
ZFS is a combined file system and logical volume manager, designed by Sun Microsystems. There is no need to manually compile ZFS modules - all packages are included.
By using ZFS, it's possible to achieve maximum enterprise features with low budget hardware, and also high performance systems by leveraging SSD caching or even SSD only setups. ZFS can replace expensive hardware raid cards with moderate CPU and memory load, combined with easy management.
General advantages of ZFS:
Easy configuration and management with GUI and CLI.

Reliable

Protection against data corruption

Data compression on file system level

Snapshots

Copy-on-write clone

Various raid levels: RAID0, RAID1, RAID10, RAIDZ-1, RAIDZ-2 and RAIDZ-3

Can use SSD for cache

Self healing

Continuous integrity checking

Designed for high storage capacities

Asynchronous replication over network

Open Source

Encryption
Hardware¶
ZFS depends heavily on memory, so it's recommended to have at least 8GB to start. In practice, use as much you can get for your hardware/budget. To prevent data corruption, we recommend the use of high quality ECC RAM.
If you use a dedicated cache and/or log disk, you should use an enterprise class SSD (for example, Intel SSD DC S3700 Series). This can increase the overall performance significantly.
IMPORTANT: Do not use ZFS on top of a hardware controller which has its own cache management. ZFS needs to directly communicate with disks. An HBA adapter or something like an LSI controller flashed in IT mode is recommended.
ZFS Administration¶
This section gives you some usage examples for common tasks. ZFS itself is really powerful and provides many options. The main commands to manage ZFS are zfs and zpool. Both commands come with extensive manual pages, which can be read with:
Host Bootloader¶
Proxmox Backup currently uses one of two bootloaders, depending on the disk setup selected in the installer.
For EFI Systems installed with ZFS as the root filesystem systemd-boot is used. All other deployments use the standard grub bootloader (this usually also applies to systems which are installed on top of Debian).
Partitioning Scheme Used by the Installer¶
The Proxmox Backup installer creates 3 partitions on all disks selected for installation.
The created partitions are:
A 1 MB BIOS Boot Partition (gdisk type EF02)

A 512 MB EFI System Partition (ESP, gdisk type EF00)

A third partition spanning the configured hdsize parameter or the remaining space available for the chosen storage type
Systems using ZFS as a root filesystem are booted with a kernel and initrd image stored on the 512 MB EFI System Partition. For legacy BIOS systems, grub is used, for EFI systems systemd-boot is used. Both are installed and configured to point to the ESPs.
grub in BIOS mode (--target i386-pc) is installed onto the BIOS Boot Partition of all selected disks on all systems booted with grub (that is, all installs with root on ext4 or xfs, and installs with root on ZFS on non-EFI systems).
Synchronizing the Content of the ESP with

proxmox-boot-tool

¶
proxmox-boot-tool is a utility used to keep the contents of the EFI System Partitions properly configured and synchronized. It copies certain kernel versions to all ESPs and configures the respective bootloader to boot from the vfat formatted ESPs. In the context of ZFS as root filesystem, this means that you can use all the optional features on your root pool, instead of the subset which is also present in the ZFS implementation in grub or having to create a small, separate boot-pool (see: Booting ZFS on root with grub).
In setups with redundancy, all disks are partitioned with an ESP by the installer. This ensures the system boots, even if the first boot device fails or if the BIOS can only boot from a particular disk.
The ESPs are not kept mounted during regular operation. This helps to prevent filesystem corruption in the vfat formatted ESPs in case of a system crash, and removes the need to manually adapt /etc/fstab in case the primary boot device fails.
proxmox-boot-tool handles the following tasks:
Formatting and setting up a new partition

Copying and configuring new kernel images and initrd images to all listed ESPs

Synchronizing the configuration on kernel upgrades and other maintenance tasks

Managing the list of kernel versions which are synchronized

Configuring the boot-loader to boot a particular kernel version (pinning)
You can view the currently configured ESPs and their state by running:
# 

proxmox-boot-tool

 

status

Determine which Bootloader is Used¶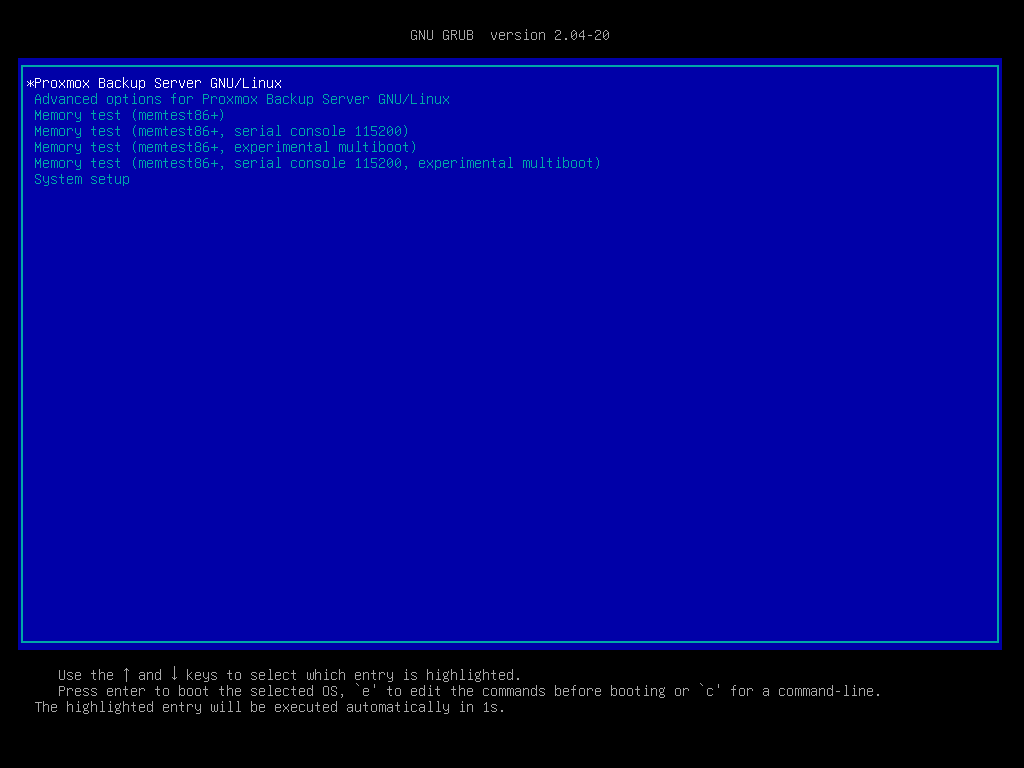 The simplest and most reliable way to determine which bootloader is used, is to watch the boot process of the Proxmox Backup node.
You will either see the blue box of grub or the simple black on white systemd-boot.

Determining the bootloader from a running system might not be 100% accurate. The most reliable way is to run the following command:
If it returns a message that EFI variables are not supported, grub is used in BIOS/Legacy mode.
If the output contains a line that looks similar to the following, grub is used in UEFI mode.
Boot0005* proxmox     [...] File(\EFI\proxmox\grubx64.efi)



If the output contains a line similar to the following, systemd-boot is used.
Boot0006* Linux Boot Manager  [...] File(\EFI\systemd\systemd-bootx64.efi)



By running the following command, you can find out if proxmox-boot-tool is configured, which is a good indication of how the system is booted:
# 

proxmox-boot-tool

 

status

Grub¶
grub has been the de facto standard for booting Linux systems for many years and is quite well documented (see the Grub Manual).
Configuration¶
Changes to the grub configuration are done via the defaults file /etc/default/grub or via config snippets in /etc/default/grub.d. To regenerate the configuration file after a change to the configuration, run:
Note
Systems using proxmox-boot-tool will call proxmox-boot-tool refresh upon update-grub
Systemd-boot¶
systemd-boot is a lightweight EFI bootloader. It reads the kernel and initrd images directly from the EFI Service Partition (ESP) where it is installed. The main advantage of directly loading the kernel from the ESP is that it does not need to reimplement the drivers for accessing the storage. In Proxmox Backup, proxmox-boot-tool is used to keep the configuration on the ESPs synchronized.
Configuration¶
systemd-boot is configured via the file loader/loader.conf in the root directory of an EFI System Partition (ESP). See the loader.conf(5) manpage for details.
Each bootloader entry is placed in a file of its own, in the directory loader/entries/
An example entry.conf looks like this (/ refers to the root of the ESP):
title    Proxmox




version  5.0.15-1-pve




options   root=ZFS=rpool/ROOT/pve-1 boot=zfs




linux    /EFI/proxmox/5.0.15-1-pve/vmlinuz-5.0.15-1-pve




initrd   /EFI/proxmox/5.0.15-1-pve/initrd.img-5.0.15-1-pve



Editing the Kernel Commandline¶
You can modify the kernel commandline in the following places, depending on the bootloader used:
Grub¶
The kernel commandline needs to be placed in the variable GRUB_CMDLINE_LINUX_DEFAULT in the file /etc/default/grub. Running update-grub appends its content to all linux entries in /boot/grub/grub.cfg.
systemd-boot¶
The kernel commandline needs to be placed as one line in /etc/kernel/cmdline. To apply your changes, run proxmox-boot-tool refresh, which sets it as the option line for all config files in loader/entries/proxmox-*.conf.
Override the Kernel-Version for next Boot¶
To select a kernel that is not currently the default kernel, you can either:
Use the boot loader menu that is displayed at the beginning of the boot process

Use the proxmox-boot-tool to pin the system to a kernel version either once or permanently (until pin is reset).
This should help you work around incompatibilities between a newer kernel version and the hardware.
Note
Such a pin should be removed as soon as possible, so that all recent security patches from the latest kernel are also applied to the system.
For example, to permanently select the version 5.15.30-1-pve for booting, you would run:
# 

proxmox-boot-tool

 

kernel

 

pin

 

5

.15.30-1-pve

Tip
The pinning functionality works for all Proxmox Backup systems, not only those using proxmox-boot-tool to synchronize the contents of the ESPs, if your system does not use proxmox-boot-tool for synchronizing, you can also skip the proxmox-boot-tool refresh call in the end.
You can also set a kernel version to be booted on the next system boot only. This is useful, for example, to test if an updated kernel has resolved an issue, which caused you to pin a version in the first place:
# 

proxmox-boot-tool

 

kernel

 

pin

 

5

.15.30-1-pve

 

--next-boot

To remove any pinned version configuration, use the unpin subcommand:
# 

proxmox-boot-tool

 

kernel

 

unpin

While unpin has a --next-boot option as well, it is used to clear a pinned version set with --next-boot. As that happens already automatically on boot, invoking it manually is of little use.
After setting or clearing pinned versions, you also need to synchronize the content and configuration on the ESPs by running the refresh subcommand.
Tip
You will be prompted to automatically do for proxmox-boot-tool managed systems if you call the tool interactively.
# 

proxmox-boot-tool

 

refresh

Certificate Management¶
Access to the API and thus the web-based administration interface is always encrypted through https. Each Proxmox Backup host creates by default its own (self-signed) certificate. This certificate is used for encrypted communication with the host's proxmox-backup-proxy service, for any API call between a user or backup-client and the web-interface.
Certificate verification when sending backups to a Proxmox Backup server is either done based on pinning the certificate fingerprints in the storage/remote configuration, or by using certificates, signed by a trusted certificate authority.
Service Daemons¶
proxmox-backup-proxy

¶
This daemon exposes the whole Proxmox Backup Server API on TCP port 8007 using HTTPS. It runs as user backup and has very limited permissions. Operations requiring more permissions are forwarded to the local proxmox-backup service.
proxmox-backup

¶
This daemon exposes the Proxmox Backup Server management API on 127.0.0.1:82. It runs as root and has permission to do all privileged operations.
NOTE: The daemon listens to a local address only, so you cannot access it from outside. The proxmox-backup-proxy daemon exposes the API to the outside world.
Command-line Tools¶
proxmox-backup-client

¶
This tool implements a backup server client, i.e. it can connect to a backup servers to issue management commands and to create or restore backups.
proxmox-backup-manager

¶
This tool exposes the whole backup server management API on the command line.
proxmox-tape

¶
This tool can configure and manage tape backups.
pmt

¶
The pmt command controls Linux tape devices.
pmtx

¶
The pmtx command controls SCSI media changer devices (tape autoloader).
pxar

¶
pxar is a command-line utility for creating and manipulating archives in the Proxmox File Archive Format (.pxar). It is inspired by casync file archive format, which caters to a similar use-case. The .pxar format is adapted to fulfill the specific needs of the Proxmox Backup Server, for example, efficient storage of hard links. The format is designed to reduce the required storage on the server by achieving a high level of deduplication.
proxmox-file-restore

¶
Command-line tool for restoring files and directories from Proxmox Backup archives. In contrast to proxmox-backup-client, this supports both container/host and VM backups.
proxmox-backup-debug

¶
Implements debugging functionality to inspect Proxmox Backup datastore files, verify the integrity of chunks.
The 'diff' subcommand allows comparing .pxar archives for two arbitrary snapshots. A list of added/modified/deleted files will be displayed.
Also contains an 'api' subcommand where arbitrary api paths can be called (get/create/set/delete) as well as display their parameters (usage) and their child-links (ls).
By default, it connects to the proxmox-backup-proxy on localhost via https, but by setting the environment variable PROXMOX_DEBUG_API_CODE to 1 the tool directly calls the corresponding code.
Warning
Using PROXMOX_DEBUG_API_CODE can be dangerous and is only intended for debugging purposes. It is not intended for use on a production system.